Arrows
Game Modes
Only Survival Mode
Type of Items
Weapon
Luminosity
No
Transparency
No
Renewable
Yes
Stackable
Yes
Description
Arrows are ammunition for bows. They can be modified to give extra effects when hit.
Obtaining
Arrows can be obtained after killing Skeletons (0-2 arrows upon death). 
Or by crafting it in the Workbench from flint, stick and feather.
Tipped arrows with effects can be obtained using arrows in a Cauldron with a Potion poured into it.
The effect that the arrow will receive depends on the potion that is cast into the cauldron.
As a Crafting Recipe
1 Flint + 1 Stick + 1 Feather → 1 Arrow

Tipped arrows obtaining with cauldron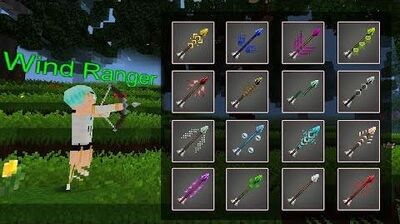 Usage
Arrows can be stacked. The distance of arrow flight depends on aiming time. Arrow have ballistic trajectory of flight.
Updates History
| Version | Updates History |
| --- | --- |
| v4.2 | - Added tipped arrows |
| v3.2 | - Added arrows |
Ad blocker interference detected!
Wikia is a free-to-use site that makes money from advertising. We have a modified experience for viewers using ad blockers

Wikia is not accessible if you've made further modifications. Remove the custom ad blocker rule(s) and the page will load as expected.