Fence

Jungle, Oak, Birch, Spruce

Game Modes
Survival and Creative
Type of Block
Solid Block
Tool Used
Luminosity
No
Transparency
No
Renewable
Yes
Stackable
Yes
Flammable
Yes
Drops
Itself
Description
Fence is wall type of block that cannot be jumped over.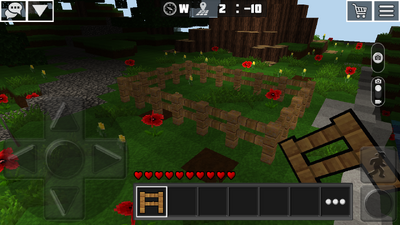 Obtaining
Fence can be obtained by crafting on a Workbench .
It can be placed and chopped again.
Destroyed Fence will drop itself.
It can be chopped with any tool, but Axe will speeds up the process.
Usage
Fence mostly used in building as a barrier that prevents players and mobs from entering fenced area.
To enter fenced area without breaking fence player must build Fence Gates .
Fence can be used as Fuel.
As a Crafting Recipe
Ingredients
Result
4 Spruce Plank s +

2  Stick

3  Spruce Fence
4 Birch Planks +

2  Stick

3  Birch Fence
4 Jungle Planks +

2  Stick

3  Jungle Fence
4 Oak Planks +

2  Stick

3  Oak Fence
Updates History
| Version | Updates History |
| --- | --- |
| v3.0 | - Added 4 types of Fences.  |
Ad blocker interference detected!
Wikia is a free-to-use site that makes money from advertising. We have a modified experience for viewers using ad blockers

Wikia is not accessible if you've made further modifications. Remove the custom ad blocker rule(s) and the page will load as expected.