Furnace

Game Modes
Survival and Creative
Type of Block
Utility Block
Tool Used
Luminosity
Yes (when active)
Transparency
No
Renewable
Yes
Stackable
Yes
Flammable
No
Drops
Itself
Description
Furnace is an utility block that smelting and converting some types of blocks.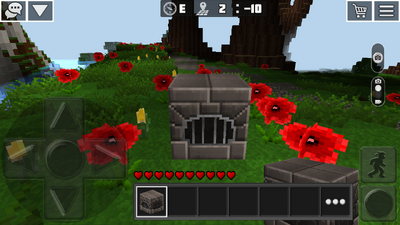 Obtaining
Furnace can be obtained only by crafting.
Furnace destroyed with a Pickaxe drops itself. Destroyed with another tool it drops nothing.
Items from destroyed Furnace will fall out.
Usage
Furnace used for smelting blocks and cooking. After being placed on the ground Furnace can be activated by pressing on it.
Furnace has its own menu that allows player to smelt materials to convert it such as Sand to Glass.
Other Furnace function is cooking raw food to increase the number of hunger points it restores.
Smelting menu consists of three slots: top is for material for smelting, bottom is for Fuel and left slot for outcome product.
After placing all the needed materials arrow indicator starts smelting process.
Smelting stops when Furnace runs out of Fuel.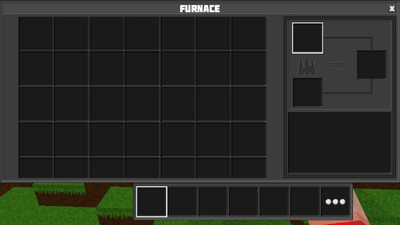 As a Crafting Recipe
8 Cobblestone → 1 Furnace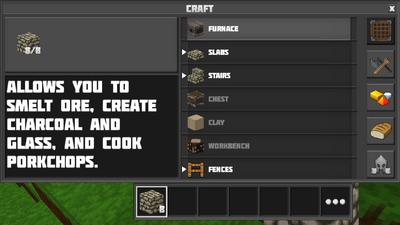 Updates History
| Version | Updates History |
| --- | --- |
| v3.0 | - Added Furnace |
Ad blocker interference detected!
Wikia is a free-to-use site that makes money from advertising. We have a modified experience for viewers using ad blockers

Wikia is not accessible if you've made further modifications. Remove the custom ad blocker rule(s) and the page will load as expected.