Hardened Clay
Game Modes
Survival and Creative
Type of Block
Solid Block
Tool Used
Luminosity
No
Transparency
No
Renewable
No
Stackable
Yes
Flammable
No
Drops
Itself
Description
Hardened Clay is a block made from Clay Block .
Obtaining
Hardened Clay can be obtaind only with a pickaxe. If mined without a pickaxe, it drops nothing.
As a Smelting Recipe
1 Clay Block & Fuel → 1 Hardened Clay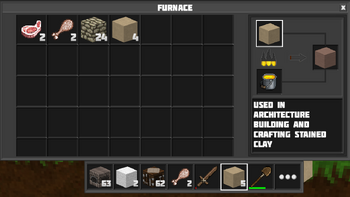 Usage
Hardened clay has the same blast resistance as most other stone blocks, which is significantly higher than the block of clay before being smelted.
A block of hardened clay will protect any block behind it, when one meter away from an explosion. But this block will be destroyed in the process.
Updates History
| Version | Updates History |
| --- | --- |
| v3.1 | - Now you can smelt Clay Block in the Furnace to obtain Hardened Clay. |
Ad blocker interference detected!
Wikia is a free-to-use site that makes money from advertising. We have a modified experience for viewers using ad blockers

Wikia is not accessible if you've made further modifications. Remove the custom ad blocker rule(s) and the page will load as expected.