Potion of Slowness
Game Modes
Only Survival Mode
Type of Items
Potion
Effects

Slows speed -15% (1:30)

Slows speed -15% (4:00)

Durability
NA
Luminosity
No
Transparency
No
Renewable
Yes
Stackable
No
Description
Potion of Slowness is a brewable item that slows player.
Obtaining
Potion of Slowness can be obtained by brewing process, starting with Potion of Swiftness, or Potion of Leaping and Fermented Spider Eye as a base and fuel (Blaze Powder).
As a Brewing Recipe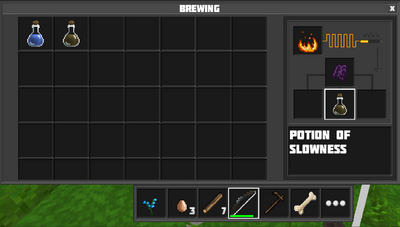 Usage
Potions of Slowness slows speed of moving by 20% for 1:30.
Tiers
This potion can be brewed to Potion of Slowness + with Redstone Dust, which will cause effect for 4:00 minutes. Also, Potion of Slowness + can be brewed from Potion of Swiftness + with Fermented Spider Eye.
Potion of Slowness + Brewing Process

Potion of Slowness + Brewing Process from Potion of Swiftness +
left|400px|link=File:Brewing_potion_of_slowness_2.png
Updates History
Version
Updates History
v3.2

- Added Potion of Slowness that cause slowing effect. Potion of Slowness can be brewed from Potion of Swiftness

- Potion of Slowness can be extended