Description
Skin Menu allows player to change and buy Skins and Skin Packs.
Description of Skin Menu buttons below:
Default Skins
Skin Menu opens on default skins screen where player can choose one of free default skins.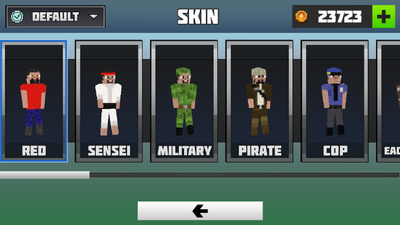 Player can get access to all purchasable skins by pressing on drop-down menu in top left corner.
Purchasable skins
This list contains all skins sorted by themed packs.
Pressing on pack will opens its own menu with all its skins.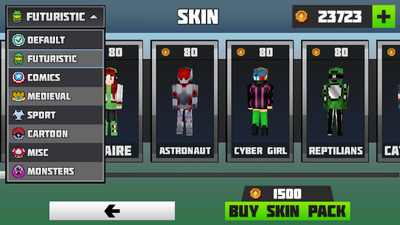 Player can buy full pack by pressing Buy skin pack button in bottom screen side.
To view and buy single skin from pack choose it and press its preview.
Indicator in right top corner shows player's coins amount.
Player can proceed to coins purchase menu by pressing green plus button without leaving Skins Menu.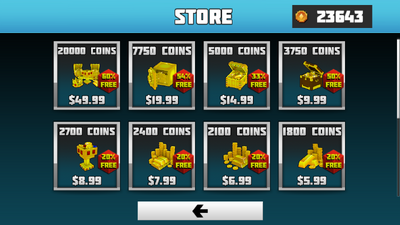 Single skin purchase
In this menu player can inspect choosed skin by rotating it and buy it by pressing Buy button.

Bought skins can be selected as default in Options Menu → Profile
Ad blocker interference detected!
Wikia is a free-to-use site that makes money from advertising. We have a modified experience for viewers using ad blockers

Wikia is not accessible if you've made further modifications. Remove the custom ad blocker rule(s) and the page will load as expected.